China is still struggling to get out of the Covid-crisis. In the past articles, we already talked about these challenges, including lockdowns, supply chain issues, sluggish retail sales and industrial production declines in China. However, in recent months, we also noticed some positive signs, such as the positive evolution of increasing foreign direct investments (FDI) into China and foreign trade data.
Foreign Direct Investments (FDI) in China
Western observers claim that China's zero covid strategy is undermining its competitive edge as a global manufacturing center and its attractiveness to foreign investments. This was also confirmed by a recent investigation by the EU-China Chamber of Commerce, stating that 23% of their members are considering moving away from China and 78% responded that China has become a less attractive investment destination.
However, according to reports of the German and American Chambers of Commerce in China, more than 70% of German companies and more than 60% of American companies are planning to increase their investment in China. Furthermore, in 2021, China attracted a record volume of foreign investment, up by 14.9% compared with the previous year. According to the Ministry of Commerce of China, in the first five months of 2022, FDI into China increased 17.3% year-on-year to CNY 564.2 billion (in dollar terms USD 87.8 billion, an increase of 22.6%). For the whole year of 2021, FDI flows to China reached around 173.48 billion U.S. dollars, an increase of around 20% compared to the previous year. Among the main sources of investment, FDI into China rose mainly from South Korea (52.8%), the US (27.1%), and Germany (21.4%).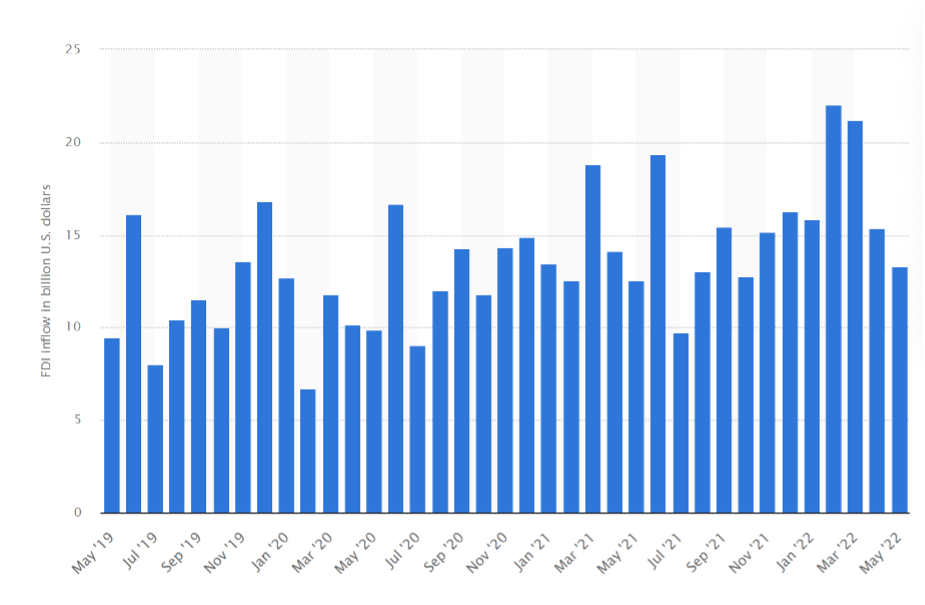 Not unexpectedly, the biggest growth rate was found in high-tech sectors, considerably outpacing the average growth rate. Foreign investment into high-tech industries surged by 42.7%, while investments in the service sector increased by 10.8%. The main drivers for this growth are the support policies for high-tech enterprises in various regions, stimulating more foreign investors to enter and expand into key markets in China. The release of the 2022 Catalogue of Industries Encouraged for Foreign Investment, which is expected to be finalized later this year, will also open up new opportunities for investment and may have a positive effect on future FDI numbers.
China's foreign trade
China's foreign trade is also showing signs of recovery. In May 2022, exports beat expectations to grow 16.1% year-on-year, reaching US$308.2 billion, up from a considerable slowdown of 3.9% in April. Meanwhile, imports reached US$229.5 billion, which is an increase of 4.1%, recovering from zero growth in April.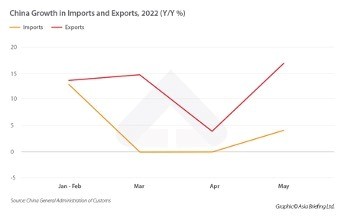 The EU, China's second-largest trading partner, accounted for 13.7% of China's total trade number and grew 8.8% year-on-year, up from 6.8% in the period from January to April 2022. It is still difficult to predict whether these positive trends will carry on through the rest of the year, considering high inflation rates in many developed countries and the negative impact on consumer spending.
Especially in areas where Belgium has strengths and China has demands, such as innovation, digital economy, healthcare, agriculture, food, chemical industry, green and low-carbon transition and sustainable development, it is important that Belgian companies keep an open mind and maintain a long-term perspective with regard to their China activities and plans.
For more information and assistance in doing business with China in 2022, please contact us or follow the official WeChat account of the Belgian-Chinese Chamber of Commerce (BCECC).