According to the World Bank, China's economy is projected to slow down to 4.3% in the year 2022 (from an official GDP growth target of around 5.5%). Standard Chartered Bank saw positive signs of China avoiding a contraction in the second quarter of 2022, despite well-known issues causing this slowdown, such as Covid-related shutdowns and measures, shortages of energy, weak consumption, falling housing prices and other real estate issues, growing unemployment rates and global repercussions from geopolitical tensions. The bank calculated a 0.4% year-on-year GDP growth in the second quarter of 2022. For the third and fourth quarter of 2022 the bank expects a GDP growth of 5.3% and 5.9% respectively.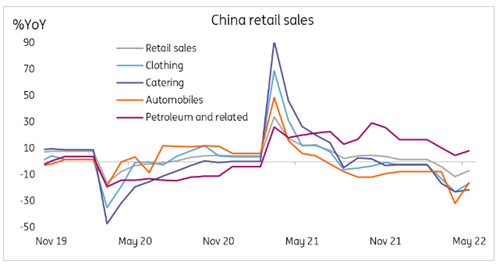 In the short term, China faces the dual challenge of balancing pandemic mitigation with supporting economic growth. Recent pandemic outbreaks are adding to economic uncertainty and reducing the effectiveness of policy measures. With China's zero-covid policy likely to continue, mobility restrictions (even if less stringent) and the fear of contracting the disease is expected to continue to weigh on the consumer market, with many people avoiding travel, shopping and dining out.
In real terms, China's export growth slowed to about 1.6% in the second quarter of 2022 from 10.4% year-on-year in the fourth quarter of 2021, while imports stayed weak, up only 1% year-on-year in June in nominal terms (versus 4.1% in May). China's real imports fell about 12 percent year-on-year in the first quarter. The faster slowdown in imports pushed up China's trade surplus to $97.9 billion in June from $78.8 billion in May, lending support to the Chinese yuan against a strengthening US dollar.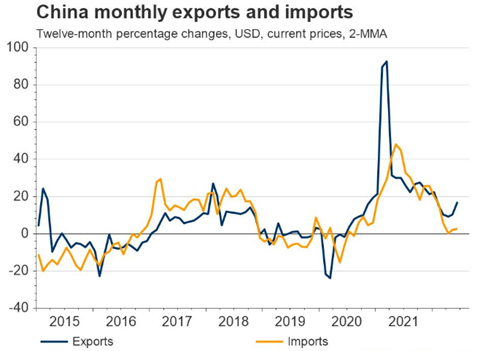 Looking ahead, another package of support for the economy is expected in the run-up to the 20th National Congress of the Communist Party congress in October. During this congress, the Communist Party will unveil its new leadership team for the next five years and it is expected that Xi Jinping will be confirmed for a third five-year term.
The Belgian-Chinese Chamber of Commerce (BCECC) calls upon Belgian and Chinese companies and organisations to remain vigilant but continue to look for opportunities for cooperation between the two countries. China continues to be an attractive and reliable business destination. During the past decades, China has shown quite some resilience in managing and overcoming major crises. The Belgian-Chinese Chamber of Commerce (BCECC) is hopeful that the Chinese economy will recover, although it is clear that it will still take quite some time.
For more information and assistance in doing business with China, please contact us or follow the official WeChat account of the Belgian-Chinese Chamber of Commerce (BCECC).