On 16 June, Kantar Group, a global brand data and analysis company, released the '2022 Kantar BrandZ Top 100 Most Valuable Global Brands' list. In 2006, only one Chinese brand (China Mobile) featured in the Top 100. Fast forward to 2022, and the list already includes 14 Chinese brands, demonstrating China's growing power in the global economy.
American brands Apple, Google, Amazon and Microsoft are still leading the list, with Tencent following as the first non-US brand and the biggest Chinese brand in fifth place. Alibaba is the second biggest Chinese brand in the Top 10, ranked ninth. Louis Vuitton is the first luxury brand to reach the global Top 10, reflecting the growth of the luxury market worldwide and in China in particular.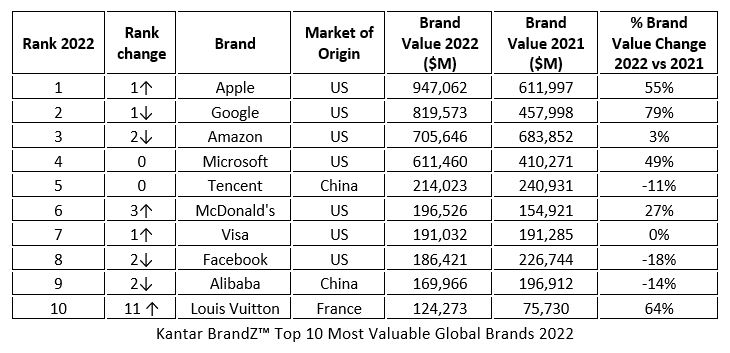 The total value of China's Top 10 grew year-on-year by 47%, more than double that of the US brands (23%), proving the resilience of Chinese brands against the backdrop of fluctuating stock prices in domestic and overseas markets, the resurgence of Covid variants and travel restrictions. Chinese brands show faster recovery and a stronger ability to resist the negative impact of the pandemic and economic uncertainties.
Other Chinese brands in the list are Moutai, Meituan, TikTok, JD, ICBC, Haier, Huawei and Ping An. The popular video-sharing app Kuaishuo made its debut at No.82, and the list is completed by China Mobile, AIA and Xiaomi.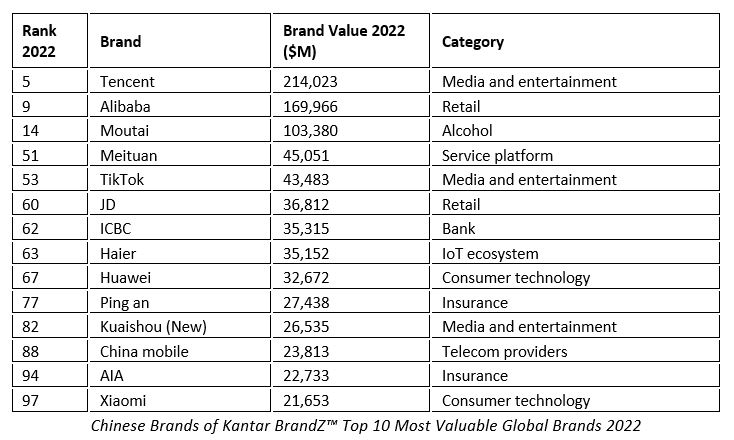 The Kantar Group survey measures consumer brand preferences and how those translate into buying habits and price premiums. The ranking is based on stock price performance and corporate market valuation. It is the only brand valuation study to combine interviews with over 3 million consumers globally with an analysis of the financial and business performance of each company, involving 19.000 brands, in 51 countries around the world.
Previously, China was seen as the world's factory, full of suppliers and manufacturers. Now, China is showing that it has the knowhow to build global brands as well. However, the report shows Chinese brands need to invest more in brand building, driving up awareness and improving perceptions of quality and therefore trust. There is still work to do if Chinese brands want to be perceived as truly global.
The pandemic has further accelerated growth of e-commerce in the retail category. Chinese brands are strong in integrating social media and e-commerce in a way that simplifies people's lives, creating appealing content. Consequently, brands with the highest 'positive experience' scores increased their brand value three times faster year on year. Furthermore, brands that have diversified into multiple categories and markets showed faster brand value growth in 2022, and have a better chance of above-average growth.
This could offer a good lesson to Belgian companies and brands: in order to be more competitive in a global economic environment, continuous innovation and brand building are essential. Companies and brands understanding how to deploy new technologies, can accelerate the development of their brand, and take a competitive edge. Belgian companies should demonstrate more assertiveness and commitment, keep an open mind and learn from Chinese brands in this regard.
For more information and assistance in doing business with China in 2022, please contact us or follow the official WeChat account of the Belgian-Chinese Chamber of Commerce (BCECC).