21 July 2021 is National Day in Belgium. It is a chance for Belgian families to spend time with their families and take a holiday. Summer is the peak season for European tourism. Despite safety and hygiene regulations and additional testing procedures, many Belgians still travel to European destinations.
However, many people also choose to stay in Belgium and (re-)discover their home country. According to the results of a survey conducted by a Belgian tourism agency, Belgian citizens are more willing to choose domestic travel, fearing infections abroad or difficulties to return home. This also goes for the business travel segment. Companies do not want to risk sending their employees on business travel because of the risk of getting sick. Instead, they force employees to use video meetings.
With regards to Chinese tourism, according to a report released by the China Tourism Academy (CTA), in the first half of 2021 Chinese people made 2,36 billion domestic trips, up by 153% from the same period in 2020. This resulted in a year-on-year growth of more than 200 percent in domestic tourism revenue in China.
The tourism sector has been hit hard in the past year, and with it also other industries, such as the transportation sector, the hospitality sector, entertainment, recreation, etc. While Chinese tourism is almost back to normal in most regions, in recent weeks European countries have also begun opening up and have taken the first steps towards restoring normal life. Furthermore, EU member countries are experimenting with vaccine passports since May 2021.
The tourism sector is one of the largest and fastest-growing industries globally. Belgium's economy is not dependent on tourism, nevertheless it is an important part of the economic income. Belgian regional governments are taking initiatives to restore and re-activate the tourism industry in Belgium, while protecting jobs and market players at the same time. For example, in Wallonia, Minister of Tourism Valerie De Bue has proposed an emergency support plan for the tourism industry in Wallonia, which is expected to cost 6.5 million euros.
The tourism industry continues to show resilience. Apart from putting more focus on domestic travel, other innovative initiatives are started. Examples are virtual museum tours, the use of augmented reality, online souvenir shops, more diverse destinations instead of only focusing on hotspots, the organization of small events or festivals, but also night tours, which people can join in their Covid-safe bubbles.
In any case, traveling past Covid-19 will never be the same as before. Technology has and will continue to play a fundamental role to ensure travelers have what they need to feel confident to travel again and explore new destinations. Now more than ever, the industry can leverage technology to meet the needs of every type of traveler. The pandemic is an opportunity to rethink tourism for the future, promoting the digital transition and moving to a greener tourism industry.
As a result, both tourists and tourism entrepreneurs continue to display strong confidence and expect a sharp rebound of the tourism market in the second half of 2021 and certainly in 2022.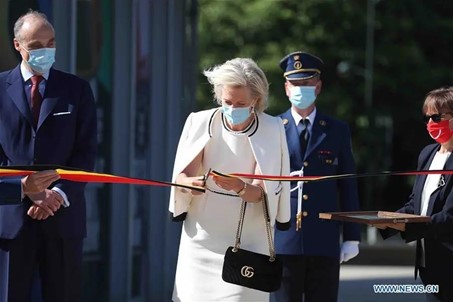 For more information about Belgian and Chinese tourism, please contact us or follow the official WeChat account of the Belgian-Chinese Chamber of Commerce (BCECC).