Although my personal connection to China started in 1998, China has been part of my life already since the early eighties, the period during which my father (the late Joos Horsten) travelled to China multiple times for the China project of Janssen Pharmaceutica. In August 2023, I will celebrate 25 years of doing business in China and I am getting ready to leave on my 100th business trip to China.
The Janssen pioneering years (1979 – 1998)
Traveling to China and doing business with China 40 years ago was quite different from today. That's what also made the pioneering work of the Janssen China team, led by Joos Horsten, so exceptional. Inspired by Dr. Paul Janssen and with the support of the provinces of Shaanxi and Antwerp, the Xi'an Janssen joint venture became a success story, a major reference in the pharmaceutical industry in China and a prominent example of a successful Sino-Belgian partnership.

The Xi'an Janssen opening ceremony (Dr. Paul Janssen in the middle and Joos Horsten 2nd from right) and the Xi'an-Janssen site
Following the successful cooperation of Janssen with its Chinese partners, Joos Horsten was also instrumental in the establishment of the friendship agreement between the provinces of Antwerp and Shaanxi. With the support from Joos and written by Geerdt Magiels, a book was published in 2003, which tells the intriguing story of how Dr. Paul Janssen established Janssen Pharmaceutica in 1953, and how Janssen became a true pioneer in the global pharmaceutical industry and in China.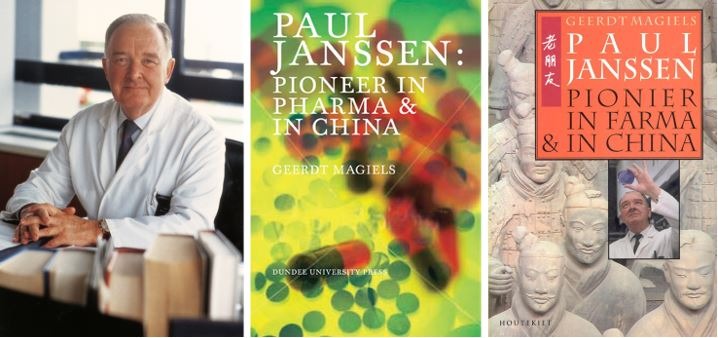 Dr. Paul Janssen and the Dutch and English cover of the book
The growth years (1998 to 2019)
In 1998 I started working in my father's company, Horsten International, a consulting company engaged in providing services to Belgian and European companies in doing business with China. I consider myself a privileged witness of China's impressive growth in the past two decades.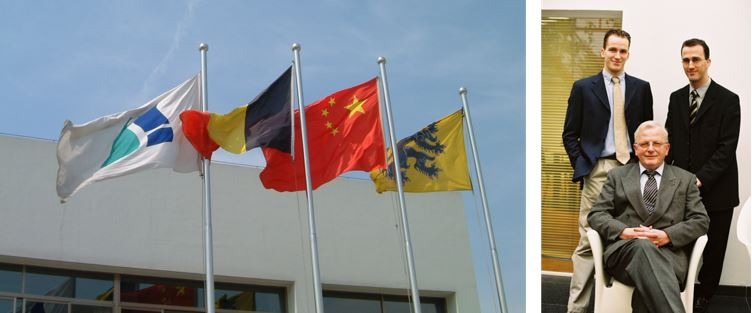 Picture taken in 2004: Wim (left), Joos (middle) and Bart Horsten (right)
Although difficult to imagine now, in the nineties and the 2000s, China was very much dependent on the products, technologies and investments from European or American investors. China didn't have the equivalent research capacities or management skills yet, not to mention the financial means or level of education. Furthermore, the investment requirements, salaries and costs were still extremely low, and China was called 'the factory of the world'.
During the 2010s, China continued its fast growth and increasingly gained the power and resources to purchase whatever they wanted or needed. The focus of my consulting business changed from looking for investment opportunities for Western companies in China to looking for distribution partners or Chinese suppliers for my European customers.
The Covid years (2020 – today)
During the past 3.5 years, many European companies have re-evaluated their China strategy. Ongoing trade disagreements and political tensions involving China on the international stage, combined with the impact of the Covid-19 pandemic on the global supply chain, have impacted the trading business with China, both in terms of sourcing from China, as well as for exports to China. On the other hand, China remains an irreplaceable sourcing hub and hugely important export destination for many Belgian companies. Hence, China's importance to Belgium cannot be ignored.
China's isolation during the three Covid years has created a form of alienation between China and the West. The fact that many foreigners have left the country has not helped either. Especially in a country like China, where personal contact, trust and interpersonal relationships are so extremely important in doing business, staying away for 3 years is not conducive to good relations between parties. It will take a long time to rebuild that lost trust. The only way to resolve this is to restart the dialogue, both at the corporate and European government levels.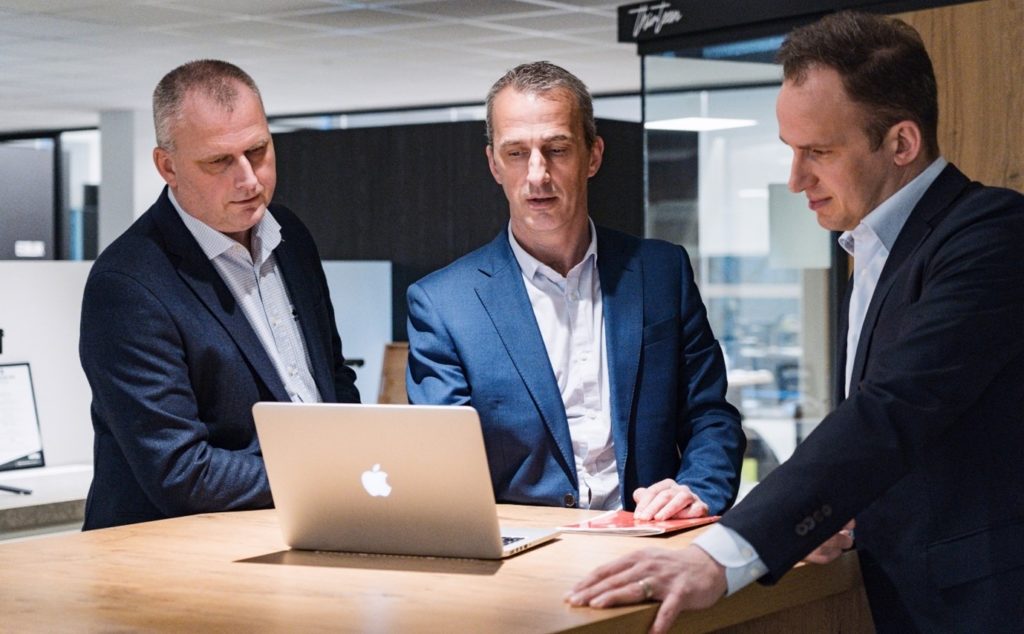 The Horsten brothers today: Tom (left), Bart (middle) and Wim Horsten (right)
Looking forward
Doing business in China and being successful is becoming a greater challenge than ever. It's clear that Chinese companies are now in the driver's seat when talking about doing business between Western countries and China. However, we shouldn't necessarily see this as a threat. I am convinced that, if we keep an open mind, there are still a lot of opportunities for Belgian companies in China.
The only way forward is to keep looking for cooperation between European and Chinese companies. We can no longer win the economic and technological battle with China, but that does not mean that there are no opportunities for European or Belgian companies. On the contrary: it is up to European companies and governments to find a way to cooperate with China and to enter into intelligent partnerships with Chinese companies, not only for the Chinese market, but also for the benefit of global expansion. Because Chinese ambitions extend beyond China; it is now a matter of Going Global.
Please contact the Belgian-Chinese Chamber of Commerce (BCECC) in case you need more information.