On 12 January 2023, the Belgian-Chinese Chamber of Commerce (BCECC) organized a webinar in cooperation with Credendo, the official Belgian export credit agency. Wim Bosman, Business Development Specialist at Credendo, gave a presentation about the risks and benefits of exporting your products to China and how to assess the country's general business environment. This was followed by a company testimonial by Maarten Michielssens, CEO of the Belgian company EnergyVision.
China country risk assessment
According to Credendo's country risk assessment, China is performing rather well compared to some of the other BRICS countries.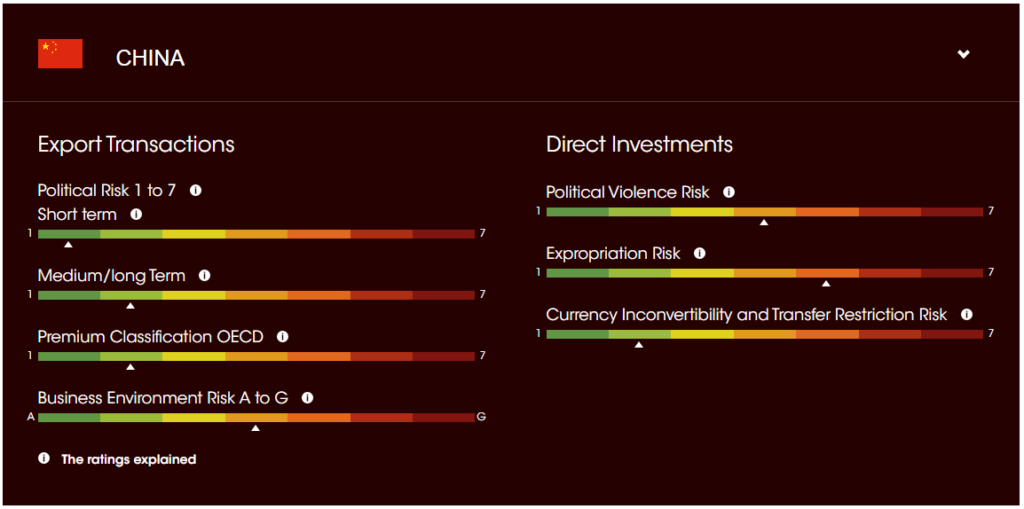 As shown in the table below, China is in the lowest risk category for almost all criteria in comparison with the other BRICS countries (note: Russia has not been taken into consideration for this comparison). When it comes to the business environment risk, China even has a better score than Belgium (category E).

What to expect in 2023?
At the end of 2022, China announced a sudden reversal of its nearly three-year long zero-Covid policy. Following this decision, GDP growth is expected to pick-up gradually after the first quarter of 2023, and expanded fiscal stimuli are likely to support this recovery. Further upside risks will certainly come from the services sector, which is likely to be boosted, notably by the removal of travel restrictions, an improved business confidence for 2023 and higher private consumption.
However, the weaker external demand due to the sharply slowing US and EU markets will moderate the level of post-zero-Covid recovery in 2023. Still, the expected acceleration in economic activity is reflected by the IMF's recent upward GDP growth revision from 3% in 2022 to 5.2% in 2023 (coming from 4.4% forecasted in October 2022).
Introducing Credendo
Credendo's mission is to promote international trade relations, providing medium-term and long-term trade credit insurance cover, financial guarantees and direct financing. As a leading European credit insurance group, Credendo covers political and commercial risks, and is active in all segments of trade credit insurance.

Even though Credendo is active worldwide, its activities mainly focus on non-OECD countries, such as China, as these markets involve the larger part of clients' risks. In 2021, almost a quarter of Credendo's risk exposure was situated in Asia and around 4% was related to risks in China. More information about Credendo can be found on its website.
Funded solutions for export to China
As one out of two sales in China is transacted on credit, offering a financial scheme to your customers can be the key for your company to enter the Chinese market. Credendo receives requests on a weekly basis for information about its funded solutions: Forfaiting and Buyer Credit Credendo. The Forfaiting solution in particular has a special link with China, as Credendo's first ever Forfaiting policy was signed with Belgian company EnergyVision to export their business to China.
Between 2021 and now, more than 50 Forfaiting policies were signed for export transactions to China. By choosing Credendo's Forfaiting solution, companies can offer their clients a credit facility of up to 8 million EUR and a tenor between 2 and 5 years. Recently, Credendo launched its Credendo Green Package, which offers incentives for environmentally sustainable projects and companies. Transactions that are eligible for the Credendo Green Package can get an extended credit facility of up to 10 years with a maximum amount of 15 million EUR.
Please contact the Belgian-Chinese Chamber of Commerce (BCECC) in case you need more information.