With its rich history and diverse culture, Belgium has steadily been making progress in various innovative fields during the past years. Belgium may be small in size, but its commitment to innovation is impressive. With a focus on sustainability, biotechnology, and a thriving startup ecosystem, Belgium is paving the way for a brighter and more innovative future in Europe and beyond.
The European Innovation Scoreboard ranks Belgium in the top 5 On 6 July, the 2023 edition of the European Innovation Scoreboard was published, demonstrating that EU Member States and their regions keep improving their innovation performance despite the recent crises. Belgium was ranked as one of the leading innovators in Europe again, with a performance at 125.8% of the EU average. According to the ranking, Denmark is the new top innovator with the best performance in the EU, overtaking Sweden after a few years in leading position. Other innovation leaders are Finland and the Netherlands.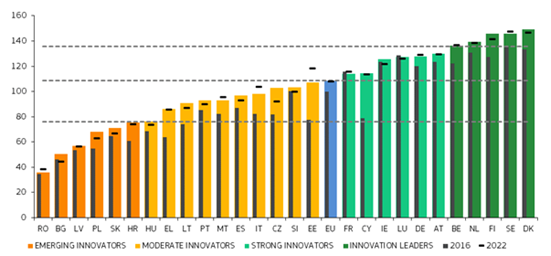 The European Innovation Scoreboard 2023 highlights a substantial improvement in the innovation performance of approximately 8.5% since 2016, confirming the EU's commitment to fostering a culture of innovation. Since 2001, the European Innovation Scoreboard has been the benchmark for analyzing innovation performance across EU countries, European neighbors, and global competitors.
Belgium number 1 in R&D expenditure and innovation at universities
Calculated on R&D intensity, which refers to the R&D expenditure as a percentage of GDP, Belgium even reached the number one spot in Europe with more than 3.6% of its GDP invested in R&D. Around 75% of this R&D spending is privately funded, around 25% is government funded. The R&D intensity in Flanders reached 3.65% in 2021, which is slightly higher than in Wallonia with 3.61%. The Brussels Capital Region had a lower figure, only 2.49%. In terms of innovation in universities, Belgium also ranks as number 1 in Europe. Belgium hosts the highest number of university education institutions per capita in Europe. KU Leuven – for the 7th time in a row – led the Thompson Reuters top 100 ranking of most innovative universities in Europe. This top 100 lists the education institutions which are contributing most to science and technology, and having the greatest impact on the global economy.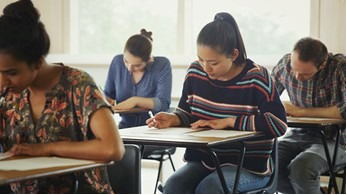 Embracing innovation to tackle tomorrow's challenges
With a proven track record in technological and scientific excellence, Belgium is a bustling hub of innovation. Notable Belgian achievements include biopharmaceutical R&D, nanoelectronics, and offshore energy, combined with world-class research institutions and universities.
Belgium is driving the high-tech chip revolution through collaboration between its IMEC laboratories and KU Leuven. In addition, thanks to research from Ghent University, ULB & VUB, Belgium is leading the way on medical discoveries on life-altering conditions including cancer, Alzheimer's, and AIDS.
As for the energy transition, Belgium has co-founded the North Sea Coalition to create the largest source of renewable energy in Europe, aiming to quadruple combined offshore wind capacity to 65 gigawatts by 2030 and to at least 150 gigawatts by 2050.
Embracing openness
Earlier this year, the Belgian government started a campaign, called 'Embracing openness', emphasizing Belgium's commitment to innovation, partnership and diversity. Belgian Prime Minister Alexander De Croo commented at the launch of the "Embracing Openness" campaign: "By collaborating across different perspectives, building bridges, and forging alliances, we can make substantial progress both economically and socially. This approach is an essential part of Belgium's DNA. Belgium radically choses for openness as the way forward."
Belgium's commitment to innovation extends beyond its borders. It actively participates in European Union research programs and collaborates with neighboring countries, reinforcing its position as an innovation leader in Europe. Belgian companies and organizations are also warmly welcoming Chinese technology companies and investors to increase mutual cooperation. Please contact the Belgian-Chinese Chamber of Commerce (BCECC) in case you need more information.