Since the beginning of June, Beijing and Shanghai businesses have reopened and residents have been released after a very long and strict lockdown. These lockdowns have contributed to the difficult circumstances which already affected global supply chains since the year before. In March 2022, we already presented a gloomy logistics outlook for 2022. Unfortunately, our fears that new Covid-outbreaks in China may lead to further port shutdowns became a reality.
Today, at the end of the first half of 2022, it seems that these challenges have not diminished. On the contrary, China reported a drop in retail sales of 11.1% and industrial production of 2.9% in April, much worse than analysts had expected. The unemployment rate in China's 31 largest cities climbed to a new high of 6.7% in April. In addition to challenges related to Covid, industrial production also faces pressure from insufficient market demand, rising costs and other factors.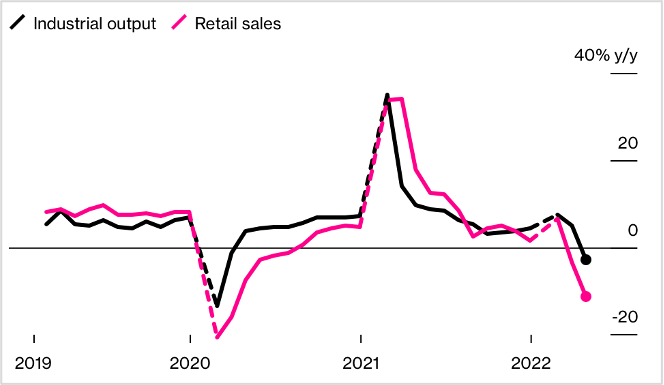 Light at the end of the tunnel?
But there are reasons to be cautiously optimistic. Goldman Sachs suggests that China's ongoing post-lockdown growth recovery should be less steep than the V-shaped one in spring 2020, simply because this time the Covid-outbreaks and related lockdowns happened in selected cities or regions, not a nationwide lockdown. Unless another severe Covid outbreak emerges, Goldman Sachs China Economist Wang Lisheng expects that mobility, construction and ports operations could recover to pre-lockdown levels in around one month.
During the past decades, China has shown quite some resilience in managing and overcoming major crises, such as the Asian crisis in the late nineties, SARS in 2003, the global financial crisis in 2008, various stock market crashes and other challenging times. The Belgian-Chinese Chamber of Commerce (BCECC) is hopeful that the Chinese economy will recover, although it is clear that it will still take quite some time.
From 'just-in-time' to 'just-in-case'
As one of the consequences of the recent supply chain problems, many Belgian companies are diversifying their supplier base so that they are not as dependent on China as before. Especially companies that are sourcing the big majority of their products from China, are realizing that this is not sustainable on the long term.
For decades, most supply chains were focused on cutting costs. Previously, companies maintained a 'just-in-time' approach, keeping minimal inventories and using short-term contracts to be as flexible as possible. The ongoing Covid-pandemic, the US-China trade war and all recent supply chain disruptions have exposed the weaknesses of this 'just-in-time' system.
Now many companies are putting more emphasis on a 'just-in-case' model, adding more resilience to their supply chain, and focusing on topics such as product quality, lead times, total cost of goods, long-term cooperation, rather than on costs only.
In our March article, we already explained that, despite the current supply chain challenges and the growing importance of other South-East Asian countries, there are still several factors speaking in favor of China to continue to be the leading sourcing market in the world for the years to come: China's huge production base, its growing high-tech capabilities, the government's stimulus programs, the infrastructure, and last but not least China's mass consumer market.
For more information, please contact us or follow the official WeChat account of the Belgian-Chinese Chamber of Commerce (BCECC).
Sources :