The Belt and Road Initiative (BRI) was unveiled in 2013 by China's president Xi Jinping. Until 2016 it was known as OBOR – 'One Belt One Road'. Most people have heard about it because of the large-scale infrastructure projects in more than 60 countries along both routes over land – forming the Silk Road Economic Belt – and over sea – forming the Maritime Silk Road. There actually exist two more routes: The Polar Silk Road and the Digital Silk Road.
There are different views about the BRI from European opinion and policy makers, but all agree that the BRI will have a great impact on the political and economic world order. But are there also any opportunities for Belgian companies in light of the Belt & Road Initiative? More in particular what does BRI mean for my company and my business in or with China?
First, several experts anticipate that, thanks to these infrastructure projects, the trade costs for countries participating in the project will reduce significantly, resulting in a trade growth of more than 10%. Hence, through the BRI the Chinese government aims to accelerate economic integration of countries along the Silk Road and boost economic cooperation with Europe, the Middle East and the rest of Asia.
As a consequence, it is clear that this will also benefit sectors in which Belgian companies are strong global niche players, such as for example logistics, energy and environment, machines and equipment, financial and professional services, healthcare and life sciences, but also tourism and E-commerce.
Currently there are already regular train connections between different Chinese logistic hubs and Belgian cities, such as Ghent, Antwerp, Liege and Genk, but also to locations in neighboring countries, such as Tilburg (the Netherlands), Duisburg (Germany) and Lyon (France). These rail freight lines between China and Europe complete the range of multimodal freight connections available in Belgium (air and sea), allowing all Belgian companies to choose the most suitable logistics solution for their business.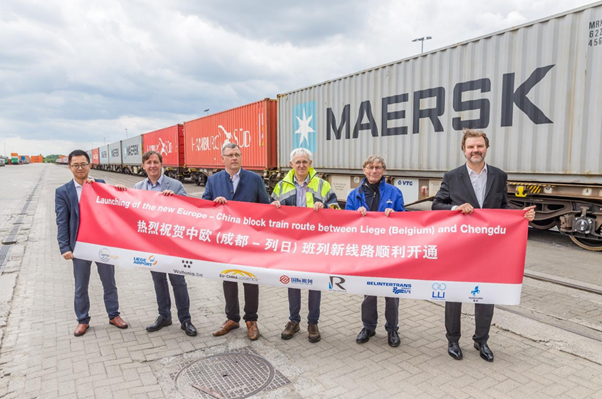 An important part of the Belt and Road Initiative for Belgium is also the digital Silk Road. Today digital trade and e-commerce are becoming an inseparable part of the global economy and in December 2018 Alibaba announced that they will built their logistic hub for Europe in Liege airport. This achievement cannot be overvalued: it has made Belgium the European headquarters for the Digital Silk Road, strengthening the good relations between China and Belgium even more and offering unique opportunities for e-commerce to many Belgian companies.
Please contact the Belgian-Chinese Chamber of Commerce (BCECC) in case you need more information about the Belt and Road Initiative and the opportunities for Belgian companies.