Free Seminars: Generating Sales in China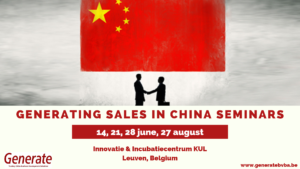 Generating Sales in China is a serie of FREE seminars intended for Belgian companies who are planning on, or already are entering the Chinese market witht their products, technologies or services.
The seminars consists of 4 parts and will be covering the following topics:
1. June 14: Chinese culture, attractive sectors, export opportunities & distribution models // register
2. June 21: Market entry strategy, digital marketing, e-commerce // register
3. June 28: How to successfully transfer technologies to China // register
4. August 27: Individual business opportunity scan, analysis& diagnose // register
During the 4th seminar you will get personalized insights and advice on how to leverage the opportunities and cope with the challenges and receive initial market research for your entrance to the Chinese market.
Practical information:
The seminars will be held on 14, 21, 28 June and 27 August
• from 9:00 AM to 11:00 AM
• Meeting room 315
• Innovatie & Incubatiecentrum KU Leuven
Kapeldreef 60
3001 Leuven
Belgium
Please register beforehand on the links mentioned above.
Note: English speaking event; we reserve the rights to refuse participation.